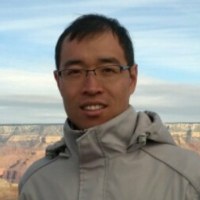 Peng Lian, Ph.D.
Post-Doctoral Research Associate
Email: lianp@ornl.gov
Work: 865.574.5896
Address:
E362, Bldg. 2040
1 Bethel Valley Rd.
Oak Ridge, TN 37831-6309
---
---
Websites
Google Scholar: https://scholar.google.com/citations?user=810EhrgAAAAJ&hl=en
ResearchGate: https://www.researchgate.net/profile/Peng_Lian6
LinkedIn: https://www.linkedin.com/in/peng-lian-19a43232
---
Education / Biography
Visiting Ph.D. University of Tennessee/Oak Ridge National Laboratory, 2011-2013
Ph.D. in Biomedical Engineering (Bioinformatics), Shanghai Jiao Tong University, 2008-2013
B.S. in Biotechnology, Shandong University, 2004-2008
---
Research Interests
Molecular Biophysics:
To develop and apply theoretical chemistry and molecular biophysics methods, such as quantum mechanics/molecular mechanics (QM/MM), molecular dynamics (MD) simulation, molecular docking, data mining to investigate the molecular mechanism of macromolecules.


CADD:
To develop new accurate computer-aided drug design (CADD) algorithms to improve the efficiency of drug discovery.
---
Publications